2014 Season Predictions
Hey, baseball's back!
So, to kick the season off right (or wrong, depending on how you look at it), here are my extremely arbitrary and likely to be glaringly wrong 2014 season predictions:
National League East
1. Washington Nationals
Record: 94-68
2. Atlanta Braves
Record: 86-76
3. New York Mets
Record: 77-85
4. Philadelphia Phillies
Record: 76-86
5. Miami Marlins
Record: 66-96
The Braves and Nationals were neck-and-neck for the top spot here until Atlanta's recent rash of injuries pushed them down and into the "good, not great" category. However, Washington has a chance to be the best team in baseball, and I still would have taken them over a fully healthy Braves team.
After the top two teams, the NL East falls of quickly. The Mets have a chance to crack .500 for the first time since 2008, but odds are they're in for another losing season. The Phillies have masqueraded themselves as contenders, spending quite a bit of money this winter on past-their-prime free agents, but they're still incredibly thin on talent and are nowhere near the level of second-tier National League squads such as the Giants or Reds. Still, the Phillies have the best chance out of the bottom trio in this division to reach .500 due to a very strong one-two-three punch of Cliff Lee, Cole Hamels, and AJ Burnett.
The Marlins appear locked for a fourth consecutive last place finish. When Jeff Baker and Casey McGehee occupy two of the top four spots in your lineup, you know it's bad. At least Marlins fans will get to see plenty of these:
National League Central
1. St. Louis Cardinals
Record: 92-70
2. Pittsburgh Pirates
Record: 86-76
3. Cincinnati Reds
Record: 84-78
4. Milwaukee Brewers
Record: 76-86
5. Chicago Cubs
Record: 65-97
It's hard to put anyone but the Cardinals on top here. They might be the most complete team in baseball, with depth at every position, even shortstop, where Jhonny Peralta has replaced the dismal Pete Kozma. However, things get a little tricky when it comes to the Pirates and Reds. Both teams are coming 90+ win seasons in which they made the playoffs, and both figure to be competitive once again this year, though they are certainly due for some regression.
The Reds' roster is currently riddled with injuries to key players such as Devin Mesoraco, Mat Latos, and half their bullpen, and I also find it highly doubtful that Billy Hamilton can even begin to fill the gargantuan size hole left by Shin-Soo Choo's departure. The Pirates are in relatively good health, but they outperformed their pythagorean record by 6 wins last year (88-74), and there doesn't seem to be much in the way of potential improvements as they return largely the same roster. Both the Reds and the Pirates will be in the playoff mix this year, but I can't see them overtaking the Cardinals.
At the bottom of the division is the Brewers and Cubs. Milwaukee could be a bit of a surprise team this year, as a full season of Ryan Braun and the addition of Matt Garza make this team look quite respectable on paper. The Cubs look primed for yet another 90+ loss season, but fortunately for Cubs fans, the team should start to promote some of their top prospects this year which could make them an interesting squad to follow later in the season.
Nationals League West
1. Los Angeles Dodgers
Record: 92-70
2. San Francisco Giants
Record: 85-77
3. Colorado Rockies
Record: 77-85
4. San Diego Padres
Record: 74-88
5. Arizona Diamondbacks
Record: 74-88
The NL West is quite similar to the NL East in terms of structure. Like the Nationals, the Dodgers reign supreme in this division, having by far the most talent (and cash). The Giants are sort of like the Braves in that both should be good, but I wouldn't expect either of them to win their division. The Giants look solid on paper, but there are some major question marks when it comes to depth and health.
After those two, it's a pretty significant drop-off, as I project the Rockies, Padres, and D-backs to all finish under .500. They each have a shot at making runs at a Wild Card spot, but the true talent level just isn't comparable to the Dodgers and Giants.
American League East
1. Tampa Bay Rays
Record: 93-69
2. Boston Red Sox
Record: 91-71
3. New York Yankees
Record: 84-78
4. Baltimore Orioles
Record: 80-82
5. Toronto Blue Jays
Record: 74-88
This is probably the most competitive division in baseball considering that even the Blue Jays (who I have finishing last) could reach the postseason if enough things fall into place.
At the top, I still think it's a dogfight between the Rays and Red Sox. I think they are the two best teams in the American League, but ultimately I slightly prefer the Rays due to a stronger sense of certainty regarding their production.
The Yankees spent nearly $500 million on the free agent market this winter, but not even unlimited money can make up for the hole they had put themselves in at the outset of the offseason. This is a team that is aging quickly, and is heavily dependent on the health of a bunch of 30+ year olds, especially in the rotation, which is currently paper-thin beyond their starting five.
Baltimore also made a bevy of moves this offseason, but their baseline was roughly the same as the Yankees, and it's hard to imagine them reaching 90 wins.
The Blue Jays figured to compete for the division crown last season, but they were repeatedly struck by injuries to core players that rendered their playoff aspirations impossible. Returning largely the same team, the Blue Jays could be really good if they stay healthy and finally get some support from their starting rotation.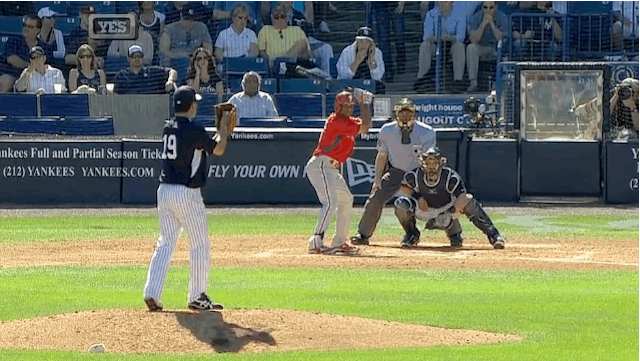 American League Central
1. Detroit Tigers
Record: 88-74
2. Kansas City Royals
Record: 87-75
3. Cleveland Indians
Record: 84-78
4. Chicago White Sox
Record: 72-90
5. Minnesota Twins
Record: 65-97
While the Tigers have a tremendous amount of talent, they appear to be extremely volatile. There is essentially no depth on this team, and the losses of Jose Iglesias, Andy Dirks, and Bruce Rondon have already reduced their chances of holding off the Royals, who, along with the Indians, are clustered at the top of the division.
The bottom duo of Chicago and Minnesota is quite uninspiring, but they each have a solid group of young players that should make them worth watching.
American League West
1. Oakland Athletics
Record: 90-72
2. Texas Rangers
Record: 88-74
3. Los Angeles Angels of Anaheim
Record: 86-76
4. Seattle Mariners
Record: 81-81
5. Houston Astros
Record: 63-99
Think of the AL Central as the lite version of the AL West. Again there's a sizable cluster at the top here, but the A's, Rangers, and Angels all have 90+ win ceilings and there is no clear separation between them.
Unlike the Central, the West has a fourth team that could be competitive in the Mariners. While I don't think they're on the same level as the "big three", they should be a solid, above-.500 team.
Of course, the A's, Rangers, Angels, and Mariners all benefit from beating up on the Astros, who figure to have another rough year ahead. Playoffs
AL Wild Card: Red Sox over Rangers
AL Divisional: Rays over Red Sox
AL Divisional: A's over Tigers
AL Championship: Rays over A's
NL Wild Card: Pirates over Braves
NL Divisional: Nationals over Pirates
NL Divisional: Dodgers over Cardinals
NL Championship: Nationals over Dodgers
World Series: Nationals over Rays
While the end result may be a bit clichéd (everyone seems to be picking this World Series matchup this year), I did pick this same matchup last year, and I don't feel like giving up just yet. I really just think these are the two best teams in baseball, and each have rosters conducive for deep playoff runs.
Awards
AL MVP: Mike Trout
Duh.
AL Cy Young: Chris Sale
There's a number of top-tier starters in the AL this year, but I ultimately see the award coming down to either Yu Darvish or Sale, who I believe are the two best arms in the league. Familiar faces such as Justin Verlander, Felix Hernandez, and Max Sherzer should also be in the race.
AL Rookie of the Year: Erik Johnson
The AL is loaded with elite freshmen this year such as Xander Bogaerts, Yordano Ventura, and Nick Castellanos, but I went with a slightly less-heralded name in Johnson who has a rotation spot locked down and could produce right out of the gate due to his high floor.
NL MVP: Joey Votto
There isn't really anybody that stands out like Trout does in the AL, but I think Votto is a fairly safe bet (well, as safe as you can get when predicting a subjective award) due to his consistent elite level offensive performance.
NL Cy Young: Jose Fernandez
Clayton Kershaw's recent injury makes this decision a lot easier, as does Fernandez's season debut.
NL Rookie of the Year: Kolten Wong
The NL isn't as stacked as the AL, but Wong is already an advanced hitter and will get the first crack at the Cardinals' second base job.