Are the Orioles for real?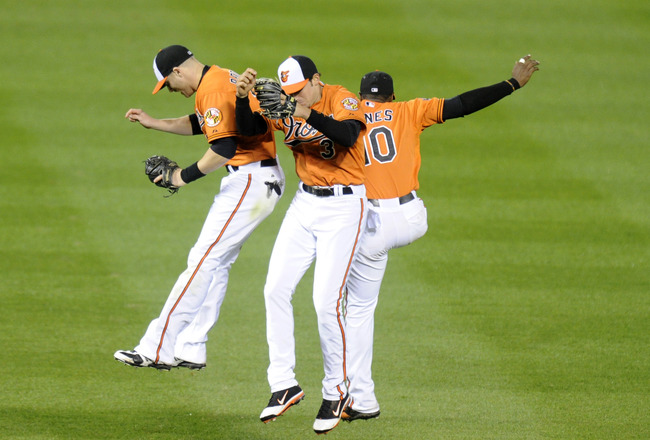 As we sit here in late May, and we look at the daily baseball standings the average fan might be shocked to see the Orioles atop the AL East standings.  The Orioles headed by GM Dan Duquette, and manager Buck Showalter have built the fledgling franchise into a surprise contender so far this season..  Even though it wasn't all their own work, they are seeming to reap the benefits of this team "overachieving" at such a young stage; however, I think differently.  I believe that the Orioles are just reaching the surface of what they can be.  Baltimore has never been considered a "large market franchise", but they play in an area with the ability to do so.  With a current payroll of just over 81 million dollars, I believe they have the fan support, and market-ability to have a payroll approaching 100 million.  Before the Orioles had a roster of "intriguing" players…now they have a roster full of young promising stars (yes I used the word stars).
Matt Wieters, the Orioles catcher, looks to me as the best catcher in the majors currently.  He is able to do everything behind the plate, and is continuing to grow at the plate.  Here is a link to an excellent article written about Wieters by Yahoo's Jeff Passan.  At first base the Orioles possess a young stud by the name of Chris Davis.  Davis is only 26 years old, even though he has been in the majors since 2008.  Davis has the potential to be a 20 home run power threat.  Adam Jones, the Orioles center fielder, might be the best player on the Orioles current MLB roster.  Jones, similar to Davis, is only 26 years old; however Jones reached the majors in 2006.  Jones finally seems like he is coming into his own. Jones is a commodity many teams would be thrilled to have.  When building a team, a GM covets three position players at a premium: catcher, short stop, and center field.  Two of the three players spoken about earlier fill those positions.  At short stop JJ Hardy is not a no-name.  Similar to Jones, and Davis, many people many believe that Hardy is older than he appears, because of his experience in the majors.  Hardy is only 29 years old, and still has plenty of good years left in the tank.  During Hardy's 7 year major league career, Hardy has hit at least 24 home runs 3 times, and has the power potential that is not essential, but a plus at the short stop position.
Throughout the Orioles roster there are plenty of what I personally like to call "intriguing players".  Intriguing players are players that the average fan might not know about, but are players that contribute quietly, or in my opinion have the opportunity to be a great player.  Nick Markakis is the definition of that type of player for me.  Markakis, similar to Wieters, Jones, Hardy, and Davis, broke into the big leagues at a young age.  Markakis is only 28 years old, and quietly has been a solid player for the O's.  He has been a source of consistency, playing at least 147 games in every single season of his career thus far.  He has always hit double-digit home runs, as well as never having an average lower than .284.  On the pitching side, the Orioles have two youngsters by the names of Jake Arrieta and Brian Matusz.  Each has struggled early in their big league careers, but they are showing signs of vast improvements.
The next part to the Orioles upcoming success is a farm system, that has two potential superstars.  Manny Machado and Dylan Bundy could easily join Wieters and Jones to become the core of this franchise.  That's 4 potential superstar caliber players. The Orioles are sitting on a luxury, that should not be taken for granted.
In the end, I believe that the Orioles might not win the AL East this year; however, don't be surprised if they win it in years to come.  They are a team with a solid front office, a well-known quality manager, and the ability to add-on payroll through the use of marketing, and ticket sales.  The Orioles seem to be set at the three most crucial positions on a baseball diamond: catcher, short stop, and center field, with Wieters, Hardy, and Jones filling those positions respectively.  A team of C: Wieters 1st: Davis 2nd: Jonathan Schoop (prospect) 3rd: Manny Machado SS: JJ Hardy LF: Glynn Davis CF: Adam Jones RF: Nick Markakis, isn't too shabby to say the least.  In having a rotation fronted by Dylan Bundy (prospect), Arrieta, and Matusz is also one that could be a force for a very long time!  I believe that the Orioles are for real, they might not win the AL East in this particular year, but not be surprised if they do so in the near future.
– Zachary Friedman